Pre-Admission Review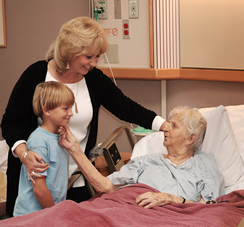 Pre-Admission Review (PAR) Screening consists of two separate pre-admission screening processes. Both are required prior to an individual entering a Medicaid certified nursing facility, PASRR (PAS) and Level of Care (LOC). The PAS component of the federal PASRR (Pre-Admission Screening and Resident Review) process requires all applicants to Medicaid-certified facilities, regardless of source of payment or diagnosis, to be screened for serious mental illness (SMI) and Mental Retardation and/or Developmental Disabilities (MR/DD).
The Level of Care process is the State of Ohio's screening process for individuals seeking Medicaid reimbursement for their stay in a Medicaid-certified nursing facility. Medicaid will only pay for an individual's care in a nursing facility if he or she meet the level of care criteria for intermediate level of care or skilled level of care. This determined level of care is communicated by our staff to the County Department of Job and Family Services so Medicaid vendor payment can be initiated.
 Hours and Contacts
The Area Agency on Aging Desk Review Hours are Monday through Friday from 8:00 am until 4:30 pm. The Pre Admission phone number is 740-439-1208 and the fax number is 740-432-7042.